Dec 26, 2017
Cheri Wiggins, MD: Selling Products Online
Today's episode is super funny and super informative! Today's topic surrounds selling products online, and today's guest, Cheri Wiggins, MD has a hilarious product. She sells Caganers. So before we begin, I thought I'd explain what that is.
According to Wikipedia, A Caganer is "a figurine depicted in the act of defecation appearing in nativity scenes in Catalonia and neighboring areas with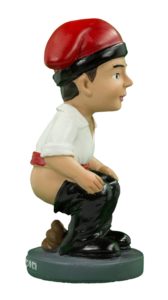 Catalan culture such as Andorra, Valencia, and Northern Catalonia (in southern France). The name "El Caganer" literally means "the crapper". Traditionally, the figurine is depicted as a peasant, wearing the traditional Catalan red cap and with his trousers down, showing a bare backside, and defecating." If you want to see what I am talking about, go to CaganerShop.com for some examples.
In today's episode, we will explore how Dr. Cheri Wiggins, a PM&R doctor from Idaho, came to be one of the only sources of this traditional Christmas decoration in the United States. We also will discuss using Amazon as a resource for selling your products online.
But before we get to the Caganer's, Cheri and I discuss the sunset of her first business, Milk'n Cookies, a mail order lactation cookie company that she ran with her business partner Lennox McNeary, MD. So, listen through to the end of this episode for all the pearls from Dr. Wiggins about selling products online.
Today you will learn:
How being a physician can help sell a specialized product
How the type of product you sell can lead to specific customer service issues
How Cheri's first online business came to an end
Alibaba has middlemen who can help you make your product in China
UPC Codes have to be created when making products to sell on Amazon
Keep your website simple so making changes is easier
Cheri uses Shopify for her website, and she compares it with Squarespace
At mark 28:10: All About selling on Amazon
Instagram marketing: follow CaganerShop @
At mark 33:45: Amazon will sell and ship your product for you!

Podcasts for Amazon Sells

Fulfill your own orders for about 2 days, then outsource to understand the value of outsourcing
Basic Steps Cheri took to create and sell her Caganers Figurines
Come up with an idea
Can use Alibaba to either purchase products already created or find resources to design own product
Sign up for Amazon Seller Central

Use Amazon Keyword marketing

Have product photos taken
Design packaging
Order bulk shipment from manufacturer
Send products to Amazon warehouse for distribution
Link your Shopify website to Amazon, so sales can also come through website
Thank you for listening to the Hippocratic Hustle! I know that time is your most valuable resource so I really appreciate you spending some of it with me. If you enjoyed today's show, please share it!
If you'd like to help me improve and grow the podcast, send your suggestions to Carrie@HippocraticHustle.com
Lastly, don't forget to subscribe to the podcast, so you won't miss an episode!